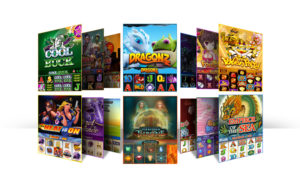 Over the last 10 years there has been a fundamental shift in the emergence of mobile friendly casino games as desktop play drops to new lows and mobile continues to grow strongly across all markets.  This has caused a fundamental shift in the way that companies in the gaming market are approaching everything from user experience to game play and designs.
Despite this obvious trend, it's still somewhat difficult for players to figure out which casinos have the best lineup of mobile games, and which software companies are leading the pack in developing mobile-first slot games.  While industry leaders like NetEnt and QuickSpin are at the forefront of mobile development, some of the old favorites like Microgaming and RTG have been playing catch-up to ensure that they stay relevant in the fast pace of the market.
The goal of this site is to show you exactly where you should play to have the best mobile experience, as well as showcase some of the awesome games that are being developed by studios to cater to mobile phone and tablet users worldwide.
The Top Mobile Compatible Slots Sites
When it comes to choosing a mobile friendly casino site, there are lots of options in today's market with almost every casino having adopted some type of compatible software for players.  That being said, as with most industries all brands aren't created equal and there are operations that have prioritized their mobile product against their competitors, leading to a better all-around experience for players.  Because of this, it's important to do some research before signing up to play for real money to ensure that you choose the best operation with superior technology, games and bonuses for mobile play.
Mobile Online Slots By Software
Types of Mobile Sites Available
Today, with the smartphones and tablets that are readily available across the globe, the types of mobile casino sites that are available are split into two categories.
Mobile Browser Casinos
This is the more common form of mobile-friendly casino. These games, which are built in HTML5 which is a mobile-friendly language, are played directly from the browser on the device. This allows a player to access any casino that offers mobile games on their site.
There are some drawbacks to having a game based in a browser. For instance, if the game isn't formatted properly, then it may not fit properly on the screen. Also, there may be latency issues with the graphics, depending on the speed of the connection that the player has on their phones.
Mobile Casino Apps
Recently, more and more casinos have started to build native apps for the different mobile software providers. The most common of these are the Google Play store for Android devices and the iTunes Store for Apple devices like iPhone and iPad.
The benefit to having a native app on your device comes down to graphics. If you have most of the graphic elements already on your device, then you only have packets of game play information passing over the Internet, which should make the games faster in general.
The issue with casino apps currently is that the providers have stringent rules on accepting real money casino apps in their stores. While there has been some positive movement recently, the apps are still limited to countries where online gambling is not banned. Even then, it depends on the individual country. This is definitely the way the industry is headed though, although there are still lots of mobile-friendly based browser options for windows users as well as other devices.
Frequently Asked Questions (FAQ)
Q. Can I play mobile slots for free?
A. Yes absolutely!  All online casinos that offer mobile-compatible slots will have both a free and real money version of their games available for players.  They do this so you can test out different software providers and the experience at the casino before you decide if you want to deposit and play for real.
Q. Are mobile players eligible for sign up bonuses and free spins?
A. All mobile players are able to redeem the same signup match bonuses and free spin offers as desktop players.  If you don't see these offered when you visit the mobile homepage of a site, simply navigate to the promotions section to see what offers are available as they may have hidden them from the homepage since space on mobile website versions is limited.
Q. What's the difference between playing on mobile or tablet versus desktop?
A. Historically there was a pretty big difference in terms of product quality at online casinos when using their desktop or download version compared to their mobile site.  Thankfully, this has changed dramatically over the last 5 years due to customer demand and nowadays mobile casino sites generally are on par or exceed their desktop counterparts.  With the advent of HTML, faster browsers and a mobile-first shift in customers globally, casino operators had no choice but to develop a superior product offering for the mobile audience.
Q. Is it safe to play at online casinos from my phone or tablet?
A. In short, yes it's incredibly safe to play for real money on a mobile device.  All of the operators today must adhere to bank level security standards and data protection compliance regulations in order to offer their games.  In addition, all of the games offered by the site must run off a random number generator that is regularly audited by a third company testing firm.  Lastly, sites also need to attain a Government monitored license who further checks them for compliance and acts as liaison between the customer and the company in the event of any dispute.  Because of all these protections, as long as you play at a trusted and regulated site, there is very little risk you funds or data would be compromised when playing online.
Q. Are the same slots available on mobile vs. tablet vs. desktop?
A. This is largely dependent on which casino site you join but many of the larger operations offer hundreds of games for Apple, Android, Windows and other tablets and phones.  Only some of the older software providers that still run their game libraries on Flash don't have mobile versions available, but this list is growing smaller by the day as mobile demand increases.
Q. How do I deposit and withdraw on mobile?
A. The process for making deposits and withdrawals on mobile is virtually the same as desktop.  Once you've created an account you simply navigate to the cashier tab, and select your chose deposit or withdrawal method and follow the instructions.
Q. Can you play slots on your phone or tablet without a download?
A. Yes, there are many no download slots available on the browser versions of casino sites.  This typically tends to be the case with real money casinos and not freemium apps that offer slots, so your best bet is to select a recommended casino and signup using your mobile browser like Chrome, Safari, Firefox or Internet Explorer.  Doing this will allow you access to both free and real money slots without the need to download any software.
Q. Are slot games slow with lots of lag on mobile?
A. This really depends on the type of connection you are playing on, but with current technologies in the market it's rarely an issue.  Using a decent Wifi connection is completely fine with a fast speed of game play, while wireless connections like LTE or 3/4G usually do the trick, depending on your signal strength.  If you're concerned about speed of play and want to ensure you have an uninterrupted experience, we recommend using Wifi at all times.